Cookies on the Akorn Destination Management website
We use cookies to help you get the most from our site. If you continue without changing your settings, we'll assume that you're happy to receive all cookies on our site. However, you can change your
cookie settings
at any time.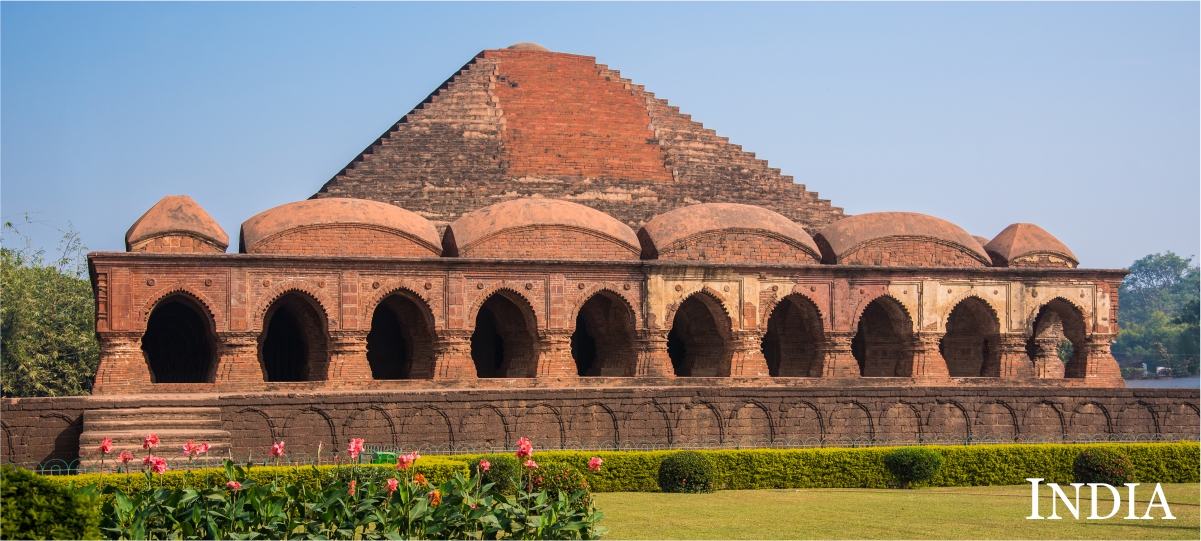 Extraordinary Journeys, Extraordinary Experiences
With another year drawing to a close, we have, as always, brought forth a gamut of niche experiences for our guests to indulge in, certainly in the new year but also in what is left of 2018. River cruises in eastern India are an interesting way to unlock the region; from little known architectural marvels not often frequented by tourists to discovering the daily lives of the locals, each day on board and off is a day of new discovery. Not far from the bank of the Ganga are the 18th century temples known for its terracotta work which can be explored by our guests after a few hours' drive from Kolkata. Moving across the country to Mumbai, Bohri cuisine is a unique culinary discovery that we want to share with our guests; we are sure they will love it as much as we do! While there, they may also want to spend a day with the iconic Dabbawalas, facilitators of lunch for office-goers all over the city, and learn about the complicated yet seamless operation of delivering lunches. The wine scene in India is, slowly but surely, coming into prominence. Our guests will enjoy exploring the vineyards and learn more about the wines of India when they visit Nashik, in Maharashtra. If our guests are planning to travel to India in the next few months, there are quite a few festivals and quintessentially Indian experience to savour.
Lastly, we welcome your queries and look forward to crafting distinctive itineraries for our guests.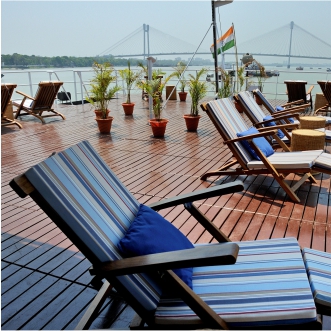 River cruises in Ganga and Brahmaputra
Flowing through the eastern parts of India, Rivers Ganga and Brahmaputra span cultural centres, breathtaking villages, river islands, wildlife sanctuaries, national parks, historical cities, and holy towns. Our guests will savour all these as well as get a sneak-peek into the daily lives of the dwellers in the riverside villages during an experiential river cruise.
While they sail along these rivers, indulge in off-shore excursions with an expert guide who will point out the significance of every town and every centre, sample the exquisite onboard gourmet offerings that can, on request, be influenced by the local flavours, venture into the riverside villages and interact with the villagers, lounge in the sundecks and take in the views of the rivers and the idyllic countryside. The cabins are designed keeping in mind the discerning tastes of our guests; it also offers them unrestricted views of the rivers and shore through the wide glass windows.
To include this in the itinerary, get in touch with us.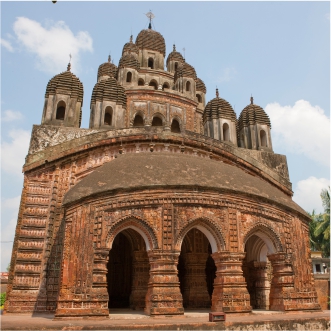 Terracotta artwork near Kolkata
A hub for art, culture, and history, West Bengal houses significant architectural marvels that have been built over the centuries. Monarchies and emperors have come and gone, and they had left behind their own excellent marks in the designs and local architecture, thus creating a breathtaking palimpsest in the region. Ambika Kalna is one such region in the state that showcases temples and palaces constructed out of terracotta and are mostly well-preserved. Built in the 17th and 18th century by the kings of Burdwan, the palace buildings and temples are embellished with terracotta ornamentation and typical Bengali architectural style, and depicts the daily lives of the era as well as various Hindu gods and goddesses. Our guests can witness these stunning artworks after a 2 ½ - hour drive from Kolkata. Some of the must-visit structures are the Rajbari complex, Ananta Basudeva Temple, Pratapeshvara Temple, Nava Kailash Temples with its 108 temples dedicated to Lord Shiva, Lalji Temple and Siddheshwari Temple among others. 
Located near Kolkata, Bishnupur is another centre known for its historical architecture and elaborate terracotta work. The temples and forts found here are of the Malla and are centuries old. They, unlike Ambika Kalna, are visited extensively by travellers because of its easy train connection from Kolkata and for its architectural brilliance. Some of the must-visit structures are Radhamadhab Temple, Jorbangla Temple, Rasmancha, Madanmohan Temple, Shyamrai Temple, Stone Chariot
For further details, guests can get in touch with us.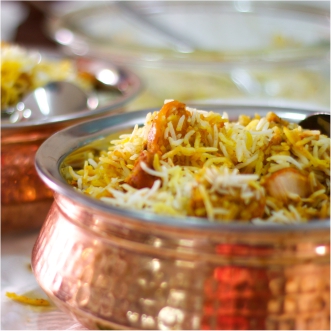 Sample Bohri cuisine in Mumbai
The Bohris are a community of Gujarati-Muslim traders, and when they had migrated to India's commercial capital, Mumbai, they brought with them their exquisite cuisine. Some of the dishes belonging to the cuisine are centuries old, some have evolved over the years, some have the typical Gujarati and Yemeni influence, but all of them are absolutely exquisite. Although, traditionally, a Bohri meal will constitute eight family members sharing a single, very large plate (thaal) where food is served, our guests can opt for a private tasting with a Bohri family. A complete Bohri meal commences with a dessert (mithaas), followed by a savoury item (kharaas). Then comes the main course that includes dishes made from lamb, goat, chicken, and often, fish. From mutton keema (minced meat) samosas to dabba gosht (a mutton dish) to nargis kebab, a seven-course Bohri cuisine tasting is a must-do if our guests are ardent gourmands and eager to try out new things. 
To book a meal, please contact us.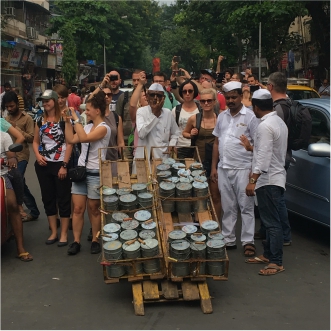 A day with the Dabbawalas in Mumbai
The dabbawalas (lunch box carriers) are as iconic to Mumbai as its film industry, Bollywood. More than a century-old, this system is responsible for delivering lunches packed in tiffin boxes to millions of office-goers and works like clockwork. They often take the help of wooden carts, local trains, bicycles, and their own legs for delivering the dabbas (tiffin-boxes). Our guests can get to live the life of a Dabbawala in Mumbai for one day. They will start the session with a detailed talk with the head of the Dabbawala association about the legendary tiffin service of the city that has been operational over a period of almost 130 years. Guests can also be part of the operations where they participate in the process of distributing dabbas or tiffin on board the busy local trains of Mumbai.
Bookings for this tour can be made here.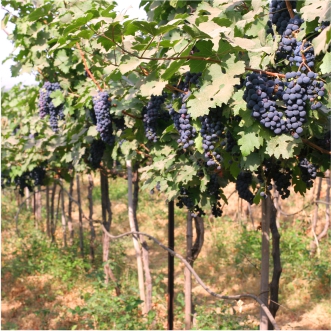 Wine tasting in western India
Wine consumption has been very much in vogue in India since 4th century BC, and many Vedic scripts and other ancient historical essays bear testimony to the same. Fast forward to the 20th and 21st century and Nashik has emerged as one of India's most prominent wine producing regions. Home to almost 50 vineyards, the Wine Capital of India produces a wide variety of wines consumed extensively in as well as outside India. Guests will enjoy visiting the vineyards wrapped in scenic landscapes along with an expert guide and know more about the art of local wine-making, right from grape to glass. Later, if they so desire, they might enjoy tasting the premium wines produced in the region under the instructions and guidance of a knowledgeable sommelier learning more about seeing – swirling – sniffing – sipping – savouring.
With the harvest season about to commence, guests are in for a treat! Come January, they can witness the process of wine-making, starting with the grapes being picked, then crushed and pressed, fermented, clarified and blended and, later, perfectly aged and bottled. The vineyards also house elegant accommodation options where our guests can bask in the serene ambience after a day of vineyards and winery touring, and wine tasting.
To include this in your guests' itinerary, get in touch with us.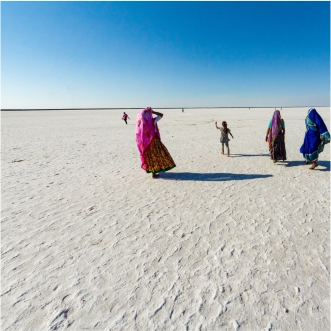 What to look out for in the next few months
Festivals and celebrations enable visitors to know more about a country and its culture. India, being a unique and exotic destination, is known for said festivals and celebrations and so much more. Our extensive local connections mean our guests will have prime seats to witness these stunning spectacles. Rann Utsav in Gujarat, like every year, is tipped to commence on the 1st of November and run well into the new year. Guests can catch snippets of the vibrant local culture, intricate handicrafts, and folk performances held in the expansive salt-encrusted land, especially on a full-moon night.
If our guests are planning to spend their Christmas holidays in India, they would, perhaps, like to usher in the New Year amid much fanfare in Pune, at the Sunburn Festival. EDM lovers will enjoy performances by some of the most renowned DJs around the world!
If guests are North India bound during February 2019, they might want to spend a couple of days in Dharamshala, Sikkim, or Ladakh, chief seats of Buddhism in India. The next Buddhist New Year, Losar, will be falling on the 5th of February 2019, and the monasteries of these regions will be beautifully decorated and the elaborately-dressed monks will perform traditional songs, dances, and dramatically staged battles.
The annual Jodhpur Polo Season, held in December, is right around the corner. Jodhpur boasts of a first-class grass polo ground that plays host to the most respectable names in the sport, both Indians and international. We can easily allocate one day in Jodhpur for our guests to enjoy a match.
Guests can enjoy an evening of soul stirring Sufi music in the dargah (shrine) of Nizamuddin Auliya. With the autumn season setting in, the evening in the capital will be pleasant, and the weather along with the spellbinding music will create a magical ambience for our guests.
From 15th of January to the 4th of March next year, millions of devotees will gather on the banks of River Ganga, in Allahabad, on the occasion of Kumbh Mela. Guests can watch them as well thousands of sages taking the holy dip in the river and participate in other religious rites.
---
© Abercrombie & Kent Ltd. All rights reserved
Translate this page
* Translation cannot be guaranteed. For more information in your language please contact us.