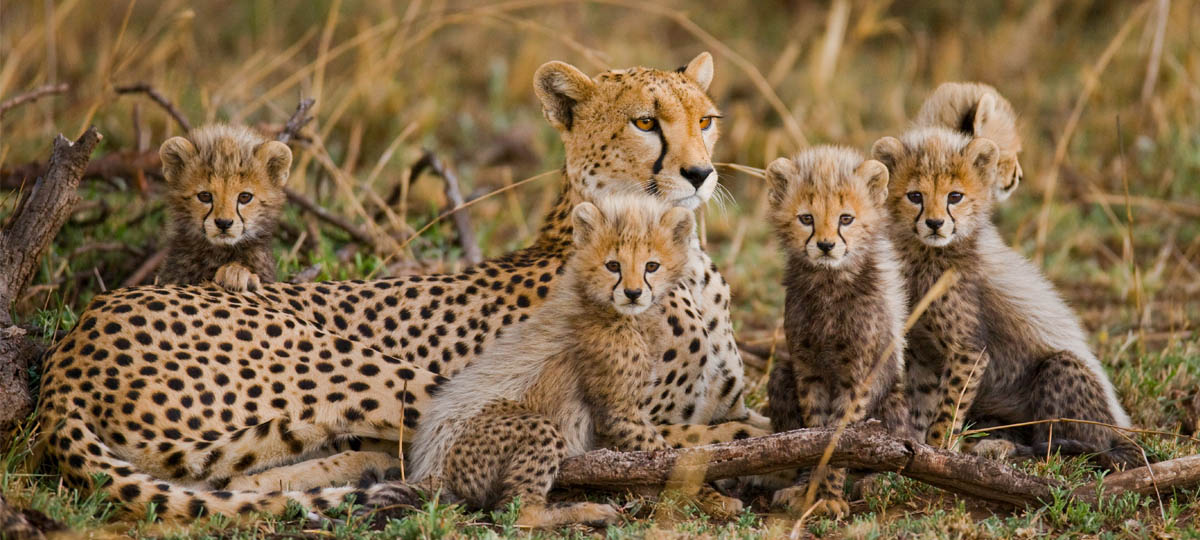 Latest News from Akorn Tanzania

Safari Secret: Mahale Mountains National Park
While many people visit Tanzania for the great wildebeest migration and the large herds of wildlife found in parks north of the country, in western Tanzania lies a different kind of attraction: chimpanzees at Mahale Mountains National Park.
Nestled by the shores of Lake Tanganyika, the park is simply stunning with Mount Nkunge (the highest peak) in the background and powder-white sand on the lakeshore in front of it. It is home to a variety of primates however the star cast of the park are the over 1000 chimpanzees found within the dense forest and in particular the Mimikere Group – popularly known as the M group. The chimps in this group have been under study since 1965 and are habituated making them perfectly safe to track. 
Finding the chimps can either be a 20 minute walk into the forest or a 3 hour hike up the rugged terrain. Whichever way you come across them, having the hour to be with the chimps is one of the most incredible wildlife experiences. Guests will either get to watch them as they play and groom each other over a clearing or as they swing from branch to branch high up on the trees. There are other wildlife species including leopards, lions and African wild dogs. All in all, Mahale offers a unique combination of forest, mountain and lake (and what a beautiful lake it is) with the chance to interact with some of man's closest relatives.
Activities:
Chimpanzee tracking, Climbing Mt Nkunge, snorkelling, kayaking, cultural visit, short birding walks, boat rides
How to get there:
By a scheduled five hour flight that flies twice weekly from Arusha. There is no road access to the park.
Where to stay:
Greystoke Mahale: The iconic view of the high thatched roof of the mess at Greystoke Mahale has become synonymous with Mahale. This chic lodge comprises of six open double-story bandas located on the edge of the forest with lovely views of the beach and the lake beyond.  This is our preferred choice. 
Kungwe Beach Lodge: Comprising of ten spacious tents spread along the beach, the lodge offers a more affordable accommodation option at Mahale. 
Contact us to plan your clients' chimpanzee tracking at Mahale today!

OPENING SOON: Siringit Serengeti Camp
Siringit Serengeti Camp promises to be the place to stay in the Seronera area when it opens on 15th July 2017. Following in the footsteps of Siringit Villa in Kilimanjaro, Siringit Serengeti is a beautiful camp that comprises eight spacious accommodation tents and a two-bedroom family tent that can sleep up to six guests. Tent features include an ensuite bathroom with a large shower and "his and hers' wash hand basins. An in-tent safe, hairdryer and a gas fired heater for those cold nights have also been provided.
At the centre of the camp is a lounge tent where guests can relax after game drives or before dinner. The dining tent is next to the lounge tent and will mostly serve European dishes with an African twist. Game drives, bird watching and balloon safaris are some of the activities that will be offered at the camp.
Siringit Serengeti Camp is located only six kilometres from the Seronera Airstrip and an hour's drive from Nabi Hill, the gateway to the Serengeti National Park for guests arriving by road from the Ngorongoro Conservation Area. Get in touch to book the new Siringit Serengeti for your clients.

OPENING SOON: Kichuguu Camp
Named after the termite mound, Kichuguu Camp is a new camp set to open in Tarangire National Park on 1 June 2017. The camp comprises just nine tents in king, twin and triple configurations with private verandas. The tents have ensuite bathrooms with flush toilets and bucket showers. The camp has separate dining and lounge/library areas and will serve Tanzanian cuisine with an option for western dishes. Guests can look forward to nature walks and night game drives. Kichuguu Camp is located only a five minute drive from Kuro Airstrip. Email us for more information on this new camp.

Precision Air Introduces flights to Uganda
After a four year's hiatus, Precision Air will once again start flying to Entebbe Airport in Uganda. From July 1, Precision Air will operate four flights a week from Dar es Salaam to Entebbe and Kilimanjaro to Entebbe. The flight will operate on Tuesdays, Wednesdays, Fridays and Saturdays.
On Tuesdays and Saturdays, the flight will depart Dar es Salaam at 12h40, arrive in Kilimanjaro at 14h05, departing at 14h35 to arrive in Entebbe at 16h25. The return flight will depart Entebbe at 16h55 and arrive in Kilimanjaro at 18h45. It will depart at 19h15 and arrive in Dar es Salaam at 20h40.
On Wednesdays and Fridays, it will depart Dar es Salaam at 12h40 and arrive in Entebbe at 15h40. The return flight will depart Entebbe at 16h10 and arrive in Dar es Salaam at 19h10.
Through this flight, clients coming from safari in Tanzania's parks can easily connect to Entebbe and forward to Bwindi Impenetrable Forest for a life changing gorilla tracking experience.
Contact us to send you a Tanzania-Uganda itinerary for your clients.

Opening Soon: Roho ya Selous
Selous in Tanzania's south occupies an extensive area of the country and is infact considered to be larger than the size of Switzerland. Selous has a beautifully varied landscape and is home to the largest herds of wilddog among many other wildlife species.
Scheduled to open in August 2017, Roho ya Selous promises to offer a new way to explore this vast game reserve. The camp is set on a hill overlooking a key waterway that links Lake Manze and Lake Nzerakera. It comprises eight stretch canvas tents that includes one family tent. Apart from game drives, guests at the camp will also be able to go on boat safaris, walking safaris and fishing. 
Selous is one of the least explored game reserves in Tanzania and guests are therefore guaranteed of an exclusive and authentic safari. To book your guests a stay at the new Roho ya Selous, kindly

US & UK Cabin Luggage Restrictions
On Tuesday, 21 March 2017 the USA and UK issued a ban on any electronic devices larger than a smart phone, from being carried as hand luggage in the airline cabin, when travelling to the US or UK from certain destinations. Click here for a full list of afftected airlines and airports.
This means guests travelling with a smart phone, laptop, iPad, tablet, camera, kindle, portable DVD player, electronic gaming device, travel printer or scanner bigger than 16cm x 9.3cm (medical devices needed on board are still allowed) will have to add these items to their check-in luggage. The US ban takes effect from 25 March 2017. The UK haven't released their effective date as yet, but be warned that airlines may be implementing this.
 
Guests travelling from East or Southern Africa via any of these countries to a USA or UK destination, will be affected by this law. While this applies to specific international airline carriers, a guest could be booked on a code share flight, which is in fact operated by an international carrier affected by the new regulations. Guests checking their luggage straight through, should make sure make that all disallowed items are in their check-in luggage from the on-set and if they are checking luggage at the affected ports to put the items into their check-in luggage.
On 24 March 2017, Sir Tim Clark, President of Emirates Airline advised that from March 25, Emirates will enable passengers to utilise their electronic devices until the last possible moment - after which they hand their laptops or tablets into the care of Emirates staff just before boarding the US-bound flight. The devices will be carefully packed into boxes, loaded into the aircraft hold, and returned to the customer at their US destination. There will not be any charge for this service.
At this time, officials did not say how long the ban would remain in place or if other airports would be added.

Precision Air adds flight to Arusha
Precision Air has added a new flight to Arusha starting 01st July 2017. The flight will operate everyday except Sunday. Precision Air provides scheduled and charter flights to Nairobi and airports in Tanzania. It is based at Julius Nyerere International Airport in Dar es Salaam.
Flight PW 426 will depart Dar es Salaam at 11.35 to arrive in Abeid Amani Karume Airport in Zanzibar at 12.05. It will leave Zanzibar at 12.30 to arrive  Arusha Airport at 13.50. The return flight PW 427 will leave Arusha at 14.15 to arrive Zanzibar at 15.35. It will depart Zanzibar at 16.00 to arrive at Dar es Salaam at 16.30. 

New Year in Southern Serengeti
Southern Serengeti is alive with wildlife and pumping with action in the New Year. These mineral-rich plains host the great wildebeest calving season that takes place in January and February. Due to the volcanic activity in Southern Serengeti over the years, its soil is rich in minerals, most notably phosphorous. This short grass is therefore the best to feed baby wildebeest. It is estimated that 8,000 foals are birthed every day during the calving season! Watching a baby wildebeest stumble as it tries to find its legs and minutes later see it grow strong enough gallop after its mother is one of nature's most awe-inspiring experiences.
Along with the thousands of wildebeest, calving also brings with it numerous predators – the other stars in the show. Prides of lion and cheetah patrol the plains to take advantage of the hapless new borns. To protect their own, female wildebeests form barricades around the birthing mothers and their foals ensuring that many babies survive. That doesn't stop the predators from trying though and guests on game drives are rewarded with sights of some dramatic kills!
The New Year is the best time to be in the Serengeti! Contact us to book a safari today! 

New Attraction: Biking in Arusha and Manyara
Exploring Tanzania by mountain bike gives you the unique opportunity to immerse yourself in the diverse nature, wildlife and local cultures. There are thousands of miles of single-track routes to explore in Tanzania, from smooth and nice paths to more challenging routes for the adventurer. 
 
1. Arusha
Bike on single-track trails trough the farming villages on the outskirts of Arusha. Encounter farmers and local communities. Ride up the lower slopes of Mount Meru and enjoy the beautiful scenery.  Or choose a full day biking in Arusha National park. Bike round the rim of the crater with stunning views. Spot the colobus monkeys, giraffes, zebras, buffaloes and various bird species.
2. Manyara
Experience local cultures from your bike while you ride through the farming village of Mto Wa Mbu. Visit local farms, schools, a local bar and a milling factory. Cycle to the lake shore where you have stunning views of the lake, the Rift Valley Wall and small herds of wildlife.
Email us to inquire about a biking safari for your clients.

Opening Soon: Jabali Ridge, Ruaha
Located among massive boulders and tall baobab trees in Ruaha National Park, Jabali Ridge is a 10-suite lodge scheduled to open in September 2017. Ruaha, home to huge densities of big cats as well as elephants and buffaloes, is also one of Tanzania's largest and least visited parks meaning guests can have all its magnificence to themselves. From the comfort of their suites, guests can enjoy spectacular views of the park through louvered shutters. They can also take in the scenery from their private decks or get an upclose encounter during day and night game drives and walking safaris. Contact us for more information.

New Attraction: Canoeing in Manyara
Canoeing on Lake Manyara gives a unique perspective on wildlife and landscape. Gliding along in a canoe allows for a silent approach to the animals such as giraffes, elephants, buffaloes and other animals grazing on the shoreline. Lake Manyara is also a great spot for birdwatchers. The safari takes nearly 2.5 hours. It can be done in the morning or in the afternoon. A guide will accompany the safari to give information about the wildlife and the park. Only available at certain times of the year.

New Attraction: Treetop Walkway, Manyara
Guests now have the perfect opportunity to experience an unforgettable airwalk at Lake Manyara National Park. The 500m (1,500 feet) air walk reaches a height of 18m (54 feet) off the ground, allowing for great views over the lake and unique bird watching opportunities. The walk starts with a short boardwalk and gradually climbs on to the walkway. Guests will walk over a series of hanging bridges with thick netting on the sides that reach a height of 18m off the ground. Each of the nine hanging bridges end on a viewing deck situated high off the ground around tree trunks. The walk takes about one hour and can be done any time of day.

New Attraction: Seaweed Center, Zanzibar
Gain a unique insight into the lives of women in Zanzibar through the eyes of seaweed farmers from the village of Paje. Meet the mamas and get hands-on at the seaweed farms as you learn about the second largest industry in Zanzibar.
Apart from seaweed farming, the women produce high-quality skin care products using fine raw ingredients sourced in Tanzania. Observe how the mamas combine traditional and modern techniques to produce natural and organic products. All products are handcrafted, fragranced with pure essential oils and made only from fine African ingredients.
---
© Abercrombie & Kent Ltd. All rights reserved
Translate this page
* Translation cannot be guaranteed. For more information in your language please contact us.